Dr. Sabahath Jaleel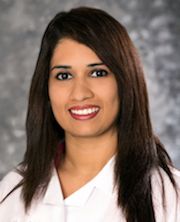 Rheumatology
PMSI Division of Rheumatology

Dr. Sabahath Jaleel completed her Internal Medicine residency at AtlantiCare Regional Medical Center, New Jersey, where she served at chief resident.  Her rheumatology fellowship was at Metrohealth/Case Western Reserve University in Ohio.

During her medical training, she received numerous awards for medical excellence and commitment to compassionate care.  Dr.Jaleel has special interests in managing patients with osteoporosis, lupus, rheumatoid arthritis and spondyloarthritis.  Her research on Scleroderma and Psoriatic Arthritis was presented to a conference of the  American College of Rheumatology.

She believes in the golden rule to treat others as how you would want to be treated and thrives on establishing a strong rapport with her patients.

In her free time, Dr.Jaleel enjoys family time,  swimming, hiking, and exotic travel to experience different cultures.